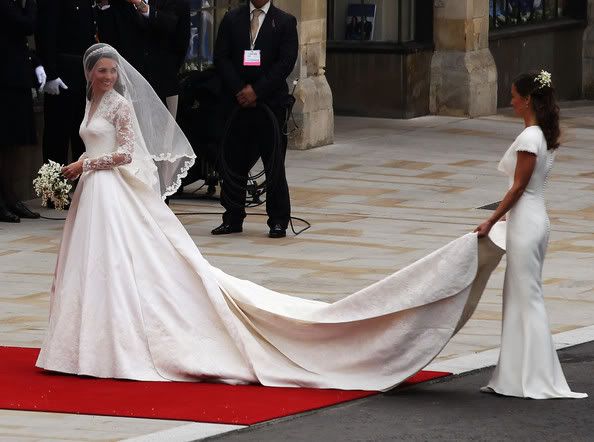 Royal bride Kate Middleton picked British label Alexander McQueen for her wedding dress, revealing the design to the world as she arrived at Westminster Abbey to marry Prince William, the second in line to the British throne.
The dress was made of ivory and white satin gazar, a loosely woven silk, with the skirt echoing an opening flower, with white satin gazar arches and pleats and a train measuring 9 feet. The ivory satin bodice, which is narrowed at the waist and padded at the hips, draws on the Victorian tradition of corsetry and is a hallmark of McQueen's designs.


I honestly was so excited that it was a Sarah Burton creation I shouted! If you follow this blog at all you know I am big fan of McQueen so you should understand my excitement. However, I am sure my fiance was more than a little confused to be woken up with shouts of "Yes, McQueen!!!"
early this morning. :)
Kate's sister, Pippa, also wore a Burton designed dress that was lovely... do I sense a trend coming of having MOH and bridesmaids wear white/ivory

?